Thursday, April 2nd, 2009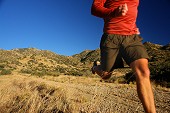 We are in the middle of week two of the training plan. I hope you are feeling motivated and positive about the progress you have made so far. Mike has given us another update on how his training has been going, as well as the obstacles that have been in his way. Good job everybody. Keep running, keep recovering, and remember that often the journey teaches you far more than the destination.
Week of 3/23 running summary – Mike Ritsema:
Monday               4 miles pretty hard
Tuesday               4 miles pretty hard
Wednesday        Rest
Thursday             47 minutes at 125 – 142 bpm avg. 135 bpm burned 505 calories
Friday                    4 miles in 34 minutes at 138 bpm
Saturday              Race:  10K – 6.2 miles in 47 minutes = 7:34 / mile
Sunday                 Rest
Notes & thoughts:
I'm a busy guy with lots of responsibilities.   Running is therapy to me.  I like to run and it stabilizes me – reorients me.  But, running isn't the center of my universe.  I enjoy golf, biking and loafing too.  Besides that, I do run a business which is taking quite a bit of time and energy in this economy.   At my age, 51, my personal challenge includes both motivation and energy.   Sometimes, I just don't have either to get me out the door.   That's why I operate best when working out with others in a group.
I find this new workout plan intriguing.  I've read and discussed the methodology in the past.   Slowing down my pace to a reasonable burn rate is counterintuitive to me.   I've been running for over 35 years.  Brute force always seemed reasonable to me.  And, yes, I do haul around some '70s era concepts that may have been improved on over the last few decades.
I'll continue putting on the miles in as close alignment to the training schedule as I'm able.
Michael Ritsema
i3 Business Solutions, llc
accelerating business results